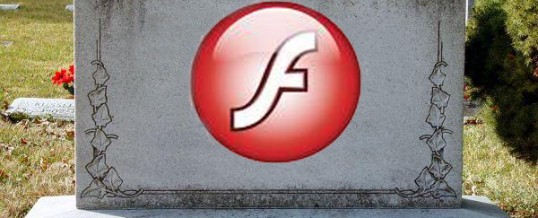 In our ongoing quest to keep you informed, we wanted to let you know about the first in what is sure to be a series of steps that lead to the death of Flash. Why is this important to you? FLASH video and websites are still quite popular, but ever since Steve Jobs and Apple refused to integrate Flash into their mobile devices, Flash's days were numbered.
That fancy moving website with amazing visual functionality? Flash site. Youtube and the videos that were first hosted? Flash video. While it will take some time for Flash to truly meet it demise, its important for you to know that this beginning step will most likely lead to a migration to HTML5.
In short, if you have a website that is Flash, it's time to consider a new one. If you host Flash video anywhere, it may be time to find another web program to create your site. Consequently, if new mobile phones cannot play Flash components, then it's time to plan the funeral.
Flash, it's been fun, and we wished you had succeeded. Alas all good things must come to an end, and HTML5 shall pave the way!
Read about it here; http://www.usatoday.com/tech/news/story/2011-11-09/mark-smith-adobe-flash-mobile/51135466/1
Share